Polly Pocket Pocket Birthday Cake Compact Playset With Doll
4 years+
Buying Instruction
➤ Kindly drop us a note to choose colour/style (for style vary items only).

1. Click "Add to Cart" button.
2. Drop your note under "Add Instructions for seller"
3. Click "Checkout" button
Celebrate Polly Pocket's birthday in style with the Pocket World Birthday Cake Bash compact.
The compact is shaped like a slice of yummy birthday cake and opens up to reveal a party-themed world with micro Polly and Lila dolls!
There are plenty of exciting things to do, including throwing shapes on the dance floor, trying to win prizes with the moving pi&ntilde ata and going fast on the spinning merry-go round.
The compact set is small enough to take anywhere including playdates, sleepovers or family days out.
Set includes Pocket World Birthday Cake Bash compact, micro Polly and Lila dolls, accessories and sticker sheet.
Suitable for children aged 4 and over.
Specifications:
Age: 4 - 10 years

​Birthday Theme with Fun Surprises!
Polly's friend Lila is throwing the perfect birthday party for Polly doll and you're invited! The celebration starts with the Pocket World Birthday Cake Bash compact that is shaped like a delicious piece of birthday cake and opens to reveal fun birthday activities! The girls can take a spin on the dance floor, play with the moving piñata and go on the moving merry-go-round. There's also a present for Polly doll that opens and becomes a wearable ring for kids! And for the grand finale surprise—Polly doll pops out of the cake accessory (hinge opens). Wow—what a fun birthday for Polly doll!
Portable Storytelling Play!
Small and portable, the Birthday Cake Bash compact is easy to pack up and take on the go for fun Polly Pocket storytelling adventures, anytime and anywhere!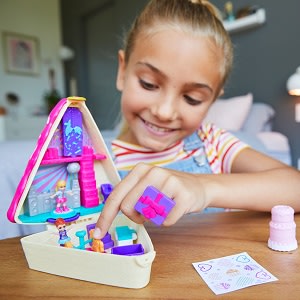 ​Tiny is Mighty Adventure!
Thanks to a magical locket she inherits from her grandmother, Polly can shrink to pocket-sized and embarks on tiny but mighty adventures! Fans everywhere will love this line of products that are big on surprise, delight and value. For more fun and adventure, check out the YouTube Kids app for Polly Pocket episodes!
Absolutely delightful!
Bought this a few weeks ago! I'm glad because the product EXACTLY as shown on website and I absolutely love it!! They are an absolute joy to have!! Thanks Entertainer!!