Polly Pocket and her pals love going on adventures with Polly's magic locket. Open up the Polly Pocket World Cupcake Playset for loads of sweet treats themed fun!
Polly and Shani can have so much fun in the Cupcake kitchen and caf&eacute .
There's secret reveals on every level of the playset, as well as performance options for Polly in the caf&eacute .
The two dolls and cute cupcake delivery bike easily fit inside the Playset, so you can play with Polly and Shani everywhere and anywhere.
Polly Pocket adventures for 4 and over.
Specifications:
Age: 4 - 10 years

Tiny But Mighty™ Fun!
Go Tiny But Mighty™ with Polly Pocket™ toys that are big on detail, design and value.

Open Cupcake Café Pocket World & Serve Up Storytelling Inspiration!
Café and music-inspired world comes with micro Polly™ and Shani™ dolls and accessories.
Sweet Treats & Musical Fun!
Whip up treats in the kitchen, perform on stage and deliver on the scooter.
Move to the Groove!
Move the stage button left to right and watch Polly™ doll perform dance moves.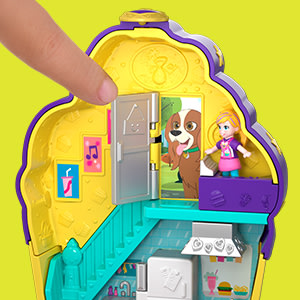 Surprise Reveals!
Open the upstairs door, open the fridge door and lift the café table to reveal the stage!

Collect All the Pocket Worlds!
Look for the Snow Secret and Flamingo Floatie worlds for more ways to play!